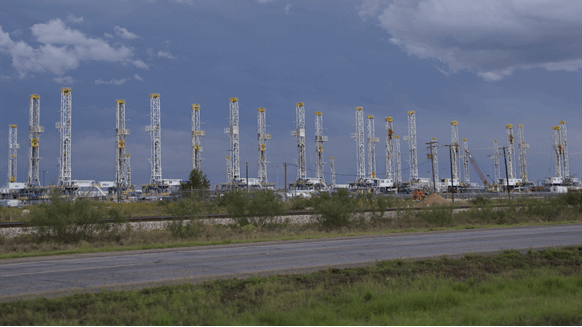 US Highway 285 is a major north-south route within the Permian Basin of West Texas and southeastern New Mexico, and it's seen better days.
U.S. Highway 285 is a major north-south route within the Permian Basin of West Texas and southeastern New Mexico, and it's seen better days.
Thanks to the oil boom in the region, the vital highway – particularly between Carlsbad, N.M., and Pecos, Texas – is much busier than it was a decade ago. More flatbed trucks rely on the road to haul equipment and supplies. In addition, the region's constrained pipeline capacity translates into an abundance of tanker trucks hauling crude oil on 285 and other highways in the region. All of the extra traffic, a sign of the Permian's enviable economic prosperity, has accelerated wear and tear on the roadway.
"This surge has boosted the need for more trucks on the road," Ronnie Witherspoon, CEO and president of Aveda Transportation and Energy Services, told Rigzone. "We now have tractor trailer combinations of all sorts hauling anything from water, proppants, chemicals, tubulars, large pieces of iron, etc. This increase in needs for oilfield services has caused intense congestion and, unfortunately has led to an increase in incidents."
The Texas Department of Transportation (TxDOT) appreciates the limitations of U.S. 285 and other key routes in the region and is addressing them through a series of improvements, an agency spokesman told Rigzone.
"We have five projects worth about $100 million planned over the next few years in Reeves County between Pecos and the New Mexico state line," Gene Powell, public information officer with the Odessa District of TxDOT, said. "In addition to rehabilitating the road, passing lanes will be added throughout the majority of the corridor. Intersection improvements will also be made in key places."
In addition to installing a four-way stop at the intersection of U.S. 285 and Ranch to Market Road (RM) 652 in the Delaware Basin boomtown of Orla, TxDOT has begun construction on four of the five projects, Powell said. He also pointed out that TxDOT expects to let bids for the fifth project in July 2019.
"Another project is being developed south of Pecos," added Powell. "It goes from Interstate 10 to two miles south of County Road 113. Estimated to cost $15 million, it will rehabilitate the road and make intersection improvements. It is tentatively scheduled for letting in January 2019."
The TxDOT website provides more details on .
Although TxDOT is working to improve the safety and condition of U.S. 285 and other routes vital to the Permian's oil and gas sector, Powell points out that individual driver behavior goes a long way in promoting safety. In fact, citing a Texas Department of Public Safety statistic, he said that more than 95 percent of all crashes are preventable.
"Speeding, distracted driving and a lack of seat belt use are all key concerns," said Powell. "Other crash causes are passing in no-passing lanes, driving on the shoulder, driving under the influence and failure to yield. Drivers need to drive to current conditions."
Encouraging News, But More Is Needed
The projects on U.S. 285 and other routes are welcome news for the region's oilfield services sector but – for now – are making it even more challenging for transportation firms to serve customers, said Witherspoon.
"We are encouraged that action is taking place to get the route in better condition," Witherspoon noted. "However, the construction has temporarily exacerbated the problem by increasing congestion and causing major delays on the road."
In addition, Witherspoon said that an 11-foot-wide lane restriction on 285 is forcing his BOP Blow Out Preventer repair company gulf coast to modify its business plan because it moves oversized loads on a daily basis.
"We are forced to find alternate routes, whether on dirt roads and/or county roads, to get to our destination," Witherspoon explained. "These alternate routes increase the time and distance to move a rig, so what started out as a short routine move could easily creep into a long-distance rig moves, having substantial impact on the cost associated with the rig moves."