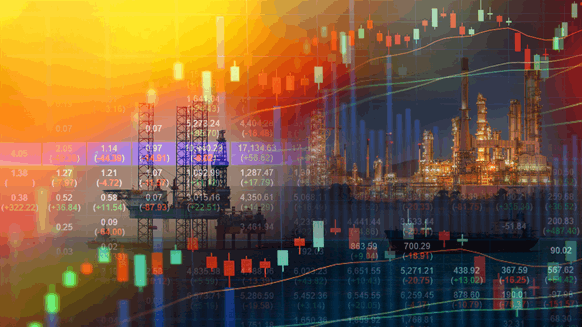 A tropical storm and ongoing Strait of Hormuz security concerns failed to prevent the WTI and Brent from declining Thursday.
Despite a tropical system in the U.S.
Gulf of Mexico (GOM) and ongoing security concerns in the Strait of Hormuz, West Texas Intermediate (WTI) and Brent oil futures finished lower Thursday.
The WTI for August delivery lost 23 cents, ending the day at $60.20 per barrel. The light crude marker remained above the psychologically important $60 threshold throughout Thursday's session, however, peaking at $60.94 and bottoming out at $60.14.
The September Brent contract price settled at $66.52 per barrel, reflecting a 49-cent decline.
Barani Krishnan, senior commodities analyst with , observed that OPEC reported a decrease in its 2019 oil oil rig flanges gulf coast production growth forecast Thursday.
"OPEC couldn't have chosen a more opportune time for this report, even if it's scheduled," said Krishnan. "Sentiment in oil is exceedingly bullish after the latest weekly draw in U.S. crude, combined with Iran-U.K.-U.S. tensions, speculation of an imminent U.S. rate cut and shutdown of oil operations on the Gulf of Mexico from storm fears."
He pointed out, however, that one should put OPEC's latest action into perspective.
"That said, OPEC's reduction of its 2019 non-OPEC supply growth forecast to 2.05 million barrels a day marks an actual cut of only 95,000 bpd," continued Krishnan. "This comes after months of effort by the cartel to rein in global supply. It shows that oil rig flanges gulf coast production outside the group, particularly from the U.S., is still overwhelming for OPEC. And despite Saudi Arabia's so-called lead-by-example oil rig flanges gulf coast production cuts, the kingdom added to rising inventories with an output increase of 112,000 bpd in June. Nigeria also added 307,000 bpd last month."
, the U.K. Royal Navy fended off an attempt by Iranian vessels to block of the path of a BP plc-operated oil tanker transiting the Strait of Hormuz. Oil traders on Thursday were also monitoring the path of Tropical Storm Barry, which at press time was moving westward off the Central Gulf Coast. At 1 p.m. Central time, the center of Barry was approximately 90 miles (145 kilometers) south of the mouth of the Mississippi River. According to the National Hurricane Center (NHC), the system was packing maximum sustained winds of 40 miles per hour (65 kilometers per hour) but could strengthen into a hurricane late Friday or early Saturday.
The NHC's latest projection is that Barry will make landfall Friday night or Saturday on the central or southeastern Louisiana coast. As of 11:30 a.m. Central time Thursday, the U.S. Bureau of Safety and Environmental Enforcement (BSEE) estimated that 53.4 percent of crude oil oil rig flanges gulf coast production (1,009,012 barrels per day) and 44.5 percent of natural gas oil rig flanges gulf coast production (1.24 million cubic feet per day) in the Gulf of Mexico had been shut in as a result of the storm.
Reformulated gasoline (RBOB) also faltered Thursday. The August RBOB contract shed nearly two cents to settle at $1.99 per gallon.
Henry Hub natural gas futures settled lower as well, with the August contract price falling three cents to close at $2.42.
MORE FROM THIS AUTHOR
Matthew V. Veazey
Senior Editor | Rigzone